Newcastle Civic Centre hosted the Northumberland County Schools' FA Centenary Dinner on Thursday 13th October 2011.

Chairman Peter Tracey opened the proceedings by welcoming nearly 150 guests to this very special occasion.  He welcomed especially, special guests ESFA Chairman John Appleby, Councillors George Todd and Mary Allen from Northumberland County Council, and guest speakers, Trevor Steven and Jack Tarr.  Trevor Steven was hailed by NSFA Life Member, Malcom Berry, as the Northumberland schoolboy 'player of the century' in the NSFA Centenary Handbook.  Trevor played for Berwick SFA, Northumberland SFA and, in 1979, for England Schools Under 15s. He went on to have a distinguished professional career and represented England at two World Cups.  The other guest speaker, Jack Tarr, is an ex-Chairman of ESFA, a great champion of primary schools' football and friend of the North Tyneside Primary Festival.
Peter continued by welcoming all players past and present, all Life Members, members of the Northumberland FA and the Referees' Society, representatives of Newcastle United and all those who have helped to run school football in Northumberland, Newcastle and North Tyneside. He was pleased to give a special welcome to the partners of the dedicated teachers present at the dinner.
After dinner John Appleby proposed the toast 'to Northumberland County Schools' Football Association'.  In making the toast, John referred to his upbringing in Palmersville and Westmoor and of his affinity for the county.  He was pleased to recognise NSFA Life Member Malcolm Sayburn in the audience as Malcolm had taught him at Forest Hall Junior School!  John praised the wonderful record of achievement that marks the history of the NSFA and talked rather enviously about the large team of enthusiasts that continue to make the NSFA the success it still is today.
In replying to the toast on behalf of NSFA, Trevor Steven gave fulsome praise to those who had helped him in his early days, giving  a very special mention to Wilf Renton, the long-serving secretary of Berwick Schoools' FA.  He also thanked Jimmy Nelson for the guidance he was given when he joined the county team.  He thanked Malcolm Berry for his accolade mentioned above - and wondered if he had sobered up yet!  He discussed the 'NSFA team of the century' that had been voted on by those members who had attended the NSFA AGM in June 2011 and was pleased to share a midfield role with Michael Carrick, Sir Bobby Charlton and Andy Sinton.  He had many fond memories of his footballing schooldays and paid tribute to all the dedicated teachers who have helped young players on their way.
Jack Tarr proposed the toast 'to schools' football' - but it was really an excuse for him to amuse the crowd with his own brand of witty 'one-liners' - and make rude comments about Alan Heads' waistline!
Peter Tracey closed the evening by thanking the staff at the Civic Centre for the excellent food and service and gave a special mention to the organising committee of Alan Heads, Andy Littleton and Ray Smith who had ensured that the evening had been the huge succes that it was. In conclusion he quoted from the original minute book of 1911 where the first secretary, Mr Rowland, wrote: "The harmony with which the working of the association has proceded has been most noticeable, and I trust that it will continue". It has!
ESFA Chairman, John Appleby, with Trevor Steven
Guest speaker, Jack Tarr (ex-Chairman, ESFA)
Andy Littleton, member of the organising committee, compares notes with the Treasurer, Chris Newman
Member of the organising committee and Life Member, Alan Heads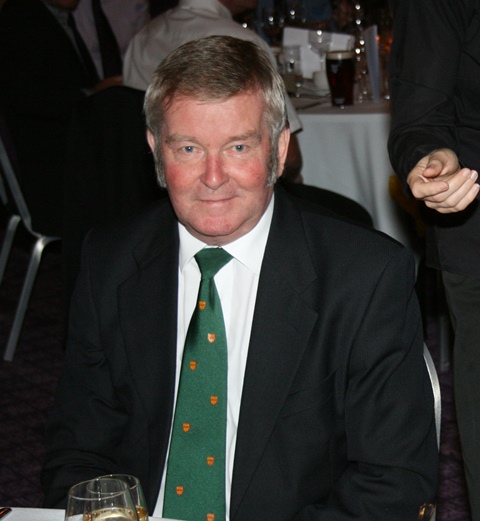 Member of the organising committee and immediate past-Chairman of NSFA, Ray Smith
Chairman Peter Tracey opens proceedings
The Chairman reflects on a successful evening...
The Chairman with Les Dodds.  Les Dodds, from Newburn Schools' FA, played for England Schoolboys Under 15s in 1952 and had a distinguished career, playing with and against 'Busby Babes' Duncan Edwards and David Pegg.
Les Todd with Bill Dawson, whose father presented the "Dawson Cup" - now competed for by U13 school teams.
Life Member Malcolm Berry (ex-CEO of ESFA) discusses his nomination of Trevor Steven
as NSFA 'Player of the Century'
Life Member Dennis Fulton with Tom Lee from Haltwhistle who played for Northumberland in 1959
Malcolm and Lorna Berry with Life Member Malcolm Sayburn (teacher of John Appleby.... !!)
NSFA Secretary and Vice-Chairman of ESFA, Neil Pont with his wife, Julia.
Mr and Mrs Owen Aiston - Owen has recently joined the ESFA Council to represent the North Region
Alan Wright, President of the Northumberland Football Association, who generously presented NSFA with a "Centenary Cup" at the dinner, to be played for in a competition of NSFA's choosing.
Wilf Renton, Secretary of Berwick SFA, with his star pupil, Trevor Steven
Jimmy Nelson, now at Newcastle United Academy and previously team manager of the NSFA Under 15 County team when Trevor Steven represented the county and his country
Les Todd and George Watson, Northumberland Football Association
Jim Drysdale, NFA representative on the NSFA Executive Committee with referees Dave Martin and Bob Thompson
A better view of Bob - surely the longest-serving referee in Northumberland schools' football?
SOME VISITORS FROM OUR NEIGHBOURING COUNTIES
Arthur Philliskirk - Durham
Dave Prothero - Cumbria
Dick Scott (Cumbria) and Graeme Burn (South Tyneside)
Geoff Wainwright - Durham
John Robson - Durham (Life Member, ESFA)
NSFA COUNTY TEAM MANAGERS - Past and Present
Andy Blight
Andy Costello
Bob Hamil and George Scott
Malcolm Denham
Malcolm Taylor
Micky Dagless
OTHER STALWARTS OF NORTHUMBERLAND SCHOOLS' FOOTBALL
Keith Belshaw (Secretary NSFA, 1995-98)
Ian Beck and Dave Slipper (Newcastle SFA)
John Farnie (Wallsend SFA)
Mike Bell (Newcastle SFA)
Mike Douglas (East Northumberland SFA)
Nigel Shields (East Northumberland SFA)
Tony Knox (ex- Newcastle LEA PE Advisor) with John Watson - referee
The "Boys from Berwick"
A group from 'The Toon' - John Watson, Bob Hamil, Owen Aiston and Jimmy Nelson with Trevor Steven
Mrs Fulton and Mrs Heads check that everything is shipshape!
The party in full swing... ...
Part of the display of memorabilia - showing The Blake Cup, the association's oldest trophy